ACTIVITY
At Amorós Nature we are Specialists of aromatic, medicinal herbs, tea, infusions and bee-products
Our products range is divided into four lines, Botanical, Tea, Bee product and Organic. In all, we offer more than 600 references of products.
Botanical, our line of aromatic and medicinal herbs.
Tea, our line of infusions, teas and flavored teas.
Bee product, our line of bee products like royal jelly, pollen or propolis.
Organic, our line of certified organic herbs.
Tailored to our customers need
At Amorós Nature we transform the raw material according to the requests of our clients, offering a product that suits all your requirements.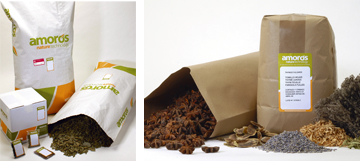 As well, at Amoros Nature, faithful to our service vocation, we continuously enlarge our range of products, in order to meet the needs of our customers.
Product presentations
Whole
Cut and sifted
Extraction Cut
Tea bag cut
Powder, standard mesh size
Powder, mesh size according to specific specification
Blend, according specific customer formulation
Pellet or granules
Debacterization and disinsectation